Courtyard Cottage, Gruline, Mull
After a spending week in Oban, we took the Calmac ferry to Mull for the second week of our summer holiday. We had collected our pre-booked tickets the day before the crossing and made sure we arrived early for our departure and found the whole process quite straightforward.
There's always something exciting about arriving at a holiday destination by boat and this trip was no exception. The crossing to Craignure took about 45 minutes and for most of that time we stood on deck looking across at the island and wondering what delights the week would have in store for us. We didn't have to wait long to find out as, a few minutes' drive from the port, heading north on the A849, we stopped at a picnic site overlooking the Sound of Mull and, we immediately spotted a pod of Harbour Porpoise. Thankfully, we had our binoculars at the ready and could fully enjoy this superb wildlife-watching experience. What a welcome to Mull!
As the week progressed, the holiday continued to show us Mull as a nature-spotter's paradise: during our stay, we saw an Osprey, Hen Harriers, Sea Eagles, Red Deer, Fallow Deer and, an adult Otter and two youngsters. My husband, joined a Basking Shark Scotland trip from Tobermory and saw Minke Whale and Basking Sharks. Yes, Mull offers nature-watching par excellence.
We seemed to have brought the good weather with us from our week in Oban and we enjoyed a pleasant drive to our accommodation via the single track roads which dominate the island's transport infrastructure.
We stayed at Courtyard Cottage at Gruline HomeFarm – a non-working farm situated in the tiny hamlet of Gruline at the heart of Mull. The location was ideal for us because we wanted to explore as much of the island as possible and everywhere is easily accessible from Gruline.
At the turn-off for the track to the farm, there's a sign to the mausoleum of Major-General Lachlan Macquarie, the 'Father of Australia'. (The mausoleum belongs to the National Trust of Australia (New South Wales) and is maintained by the National Trust for Scotland.)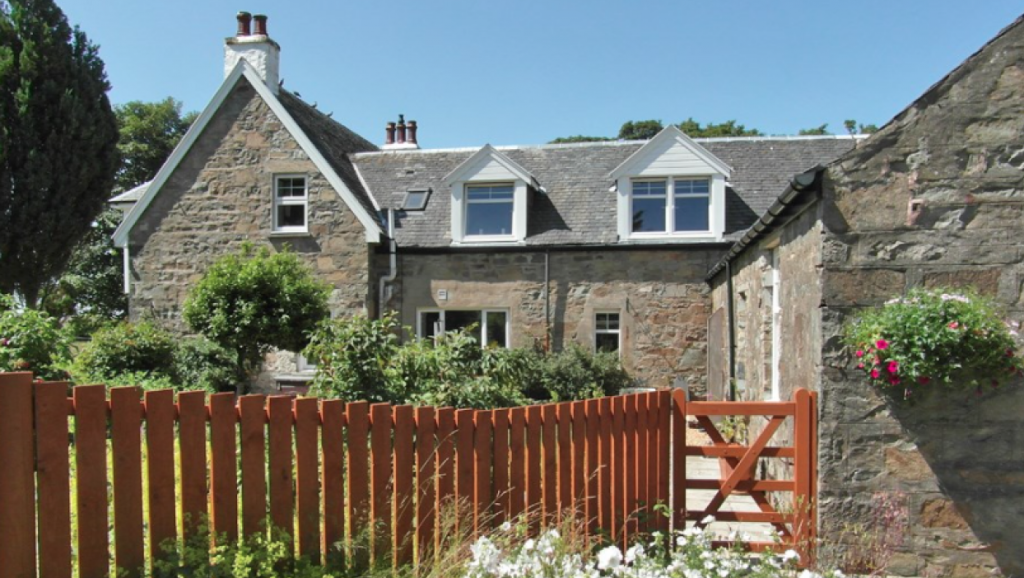 On arrival at our destination, we were greeted enthusiastically at the gate by the owner's dog, Albert (a Grand Basset Griffon Vendeen). 'Albert' is pronounced the French way 'al-bear', which suits him because he's like a big, cuddly teddy. Sharon, his owner and our host, welcomed us and waved us round past their house (which houses the B&B) and on to the cottage.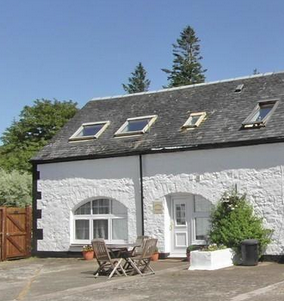 As the name suggests, 'Courtyard Cottage' faces onto the courtyard at Gruline Home Farm, where there is a pleasant private outdoor dining area and secure parking space. Courtyard Cottage is one of those clever 'upside-down' houses, with the large, elegant bedroom and stylish, modern shower room (with under-floor heating) downstairs, and the open-plan lounge/kitchen dining area upstairs, taking advantage of the views.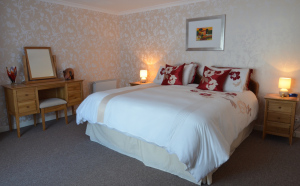 The cottage was well-equipped with everything we needed for a really comfortable and relaxing break and Sharon and Stuart were so helpful when we needed to find a vet when our dog needed a prescription filling in an emergency – and when our car needed a jump start after getting a flat battery. (I fear we were 'problem guests!) They couldn't do enough to help and didn't make us feel like we were being a nuisance (even though I'm sure we were).
Along with guests staying at the B&B, cottage guests also have access to the beautifully landscaped garden and its stunning view up to Beinn a'Ghraig and Ben More's range of hills beyond.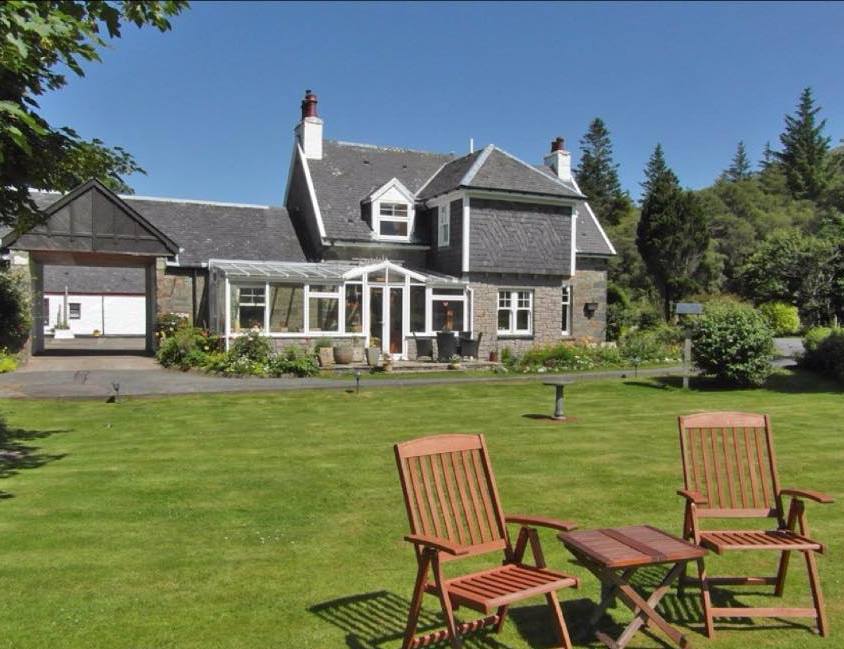 Guests are all invited to share the conservatory overlooking the garden, and I found it a lovely spot to sit and read, or to watch the clouds scudding over the hills whilst enjoying a cool drink. During our stay, I was also fortunate enough to be able to enjoy a spot of sunbathing in the garden while our dog, Tilly romped joyously with Albert, her new best friend.
Our first excursion from Gruline was to stunning Loch na Keal. Mull has both seawater and freshwater lochs: Loch na Keal is a sea loch. Here we were able to see (but sadly not to photograph) our first-ever Otters. It was an exciting opportunity for us to witness a mum happily floating on her back, teaching her two pups how to break into a crab's shell to get to the tasty meat inside. Never having seen a wild Otter before, I was spellbound. We were told that Golden Eagles can also be seen in the skies around Loch na Keal but sadly, we missed that spectacle. I did, however, spot a Sea Eagle from the garden at Gruline.


From the shingle beach shores of Loch na Keal, you can see the tiny uninhabited Isle of Eorsa and the stunning landscape of Ben More in the distance. You may also meet some equally stunning Highland Cattle!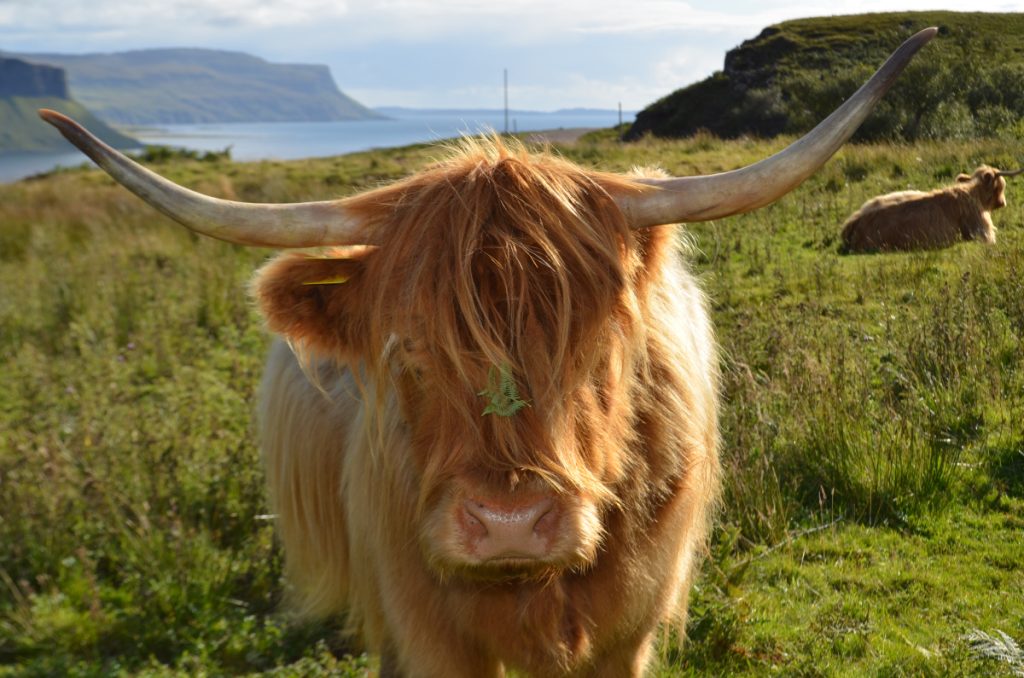 Another spectacular loch within walking distance of the cottage, is Loch Bà, a freshwater loch, about 5km long, drained by the River Bà into Loch na Keal. It is secluded and serene and oozes peace and tranquillity. We were very fortunate to have this fabulous loch all to ourselves for the whole afternoon, with just the local sheep for company.
If wildlife-watching and walking is not really your thing, you might prefer a day at Mull's most popular beach. It was a bit windy during our visit to Calgary Beach but that didn't deter families from enjoying an ice cream and a paddle. As well as beautiful white sands, dunes and machair grasslands, this family-friendly beach also has a decent-sized car park and toilet facilities.
If after all the fresh air, you're looking for a spot of retail therapy, then you need to head to Tobermory with an attractive mix of shops, services and cafés. With its brightly-coloured buildings, Tobermory is instantly recognisable as the setting for the CBeebies show 'Balamory'. It's also the home of iconic bar, Mishnish which has been serving locals and visitors since 1869. We called in for a traditional pub lunch. The atmosphere was cosy and welcoming.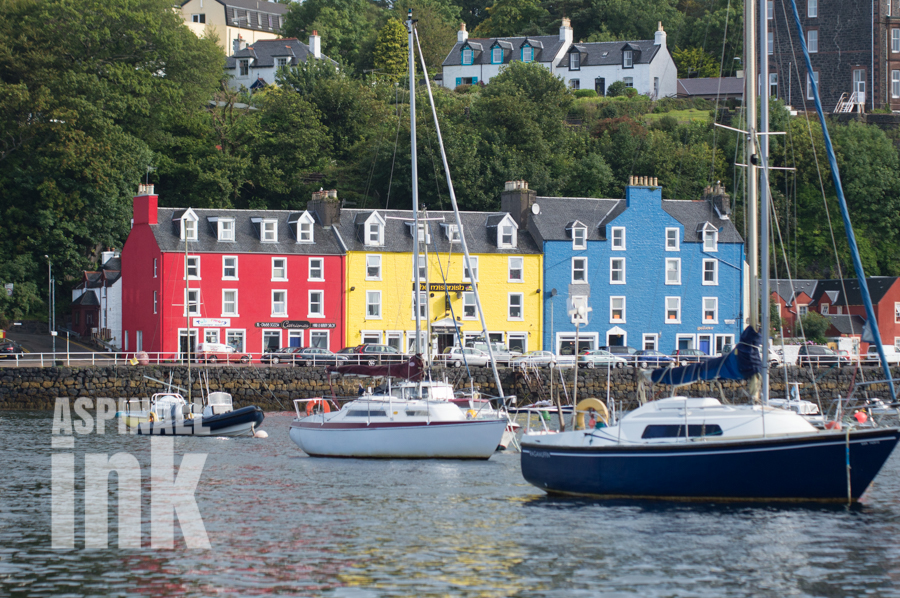 Because we were relishing the opportunity to cook with fresh local seafood during our stay, we didn't dine out much on Mull but we did enjoy a delicious Italian meal at the Mediterranea Restaurant in Salen and would recommend that as a lovely place to spend an evening.
One day, we stopped off when we saw roadside sign, and bought a huge bag of mussels for £4. They were so fresh and, cooked with garlic, onion, white wine and cream, they were delicious.
All too soon, our week on Mull was over but we left feeling relaxed and refreshed.
Travel – www.calmac.co.uk
Where to stay – For details of our accommodation, visit: www.grulinehomefarm.com
Photos by kind permission of Gruline Home Farm unless otherwise indicated