I love the power that words have to inspire, motivate and engage the reader, words that are immortalised, words of wit, pain, and truth; to the writer, if not always the reader. Many a writer, intellectual, artist or traveller has made comment on the virtue of travel, a subject of which most of our readers are obviously passionate. I have collated below a selection of fifty of my favourite travel quotes, some may strike a chord, but please add your own favourites in the comments box below the article; who can come up with a modern version of a classic quote, or even better their own inspirational original. These quotes are not arranged in a particular order of favouritism:
These quotes are not arranged in a particular order of favouritism:
1 'We wander for distraction, but we travel for fulfillment.' – Hilaire Belloc
Written in the early twentieth century at a time when travel was either an adventure or a luxury this quote still resonates today, although it could quite easily be changed to 'We wander for distraction, we travel to get there, we explore for fulfillment.'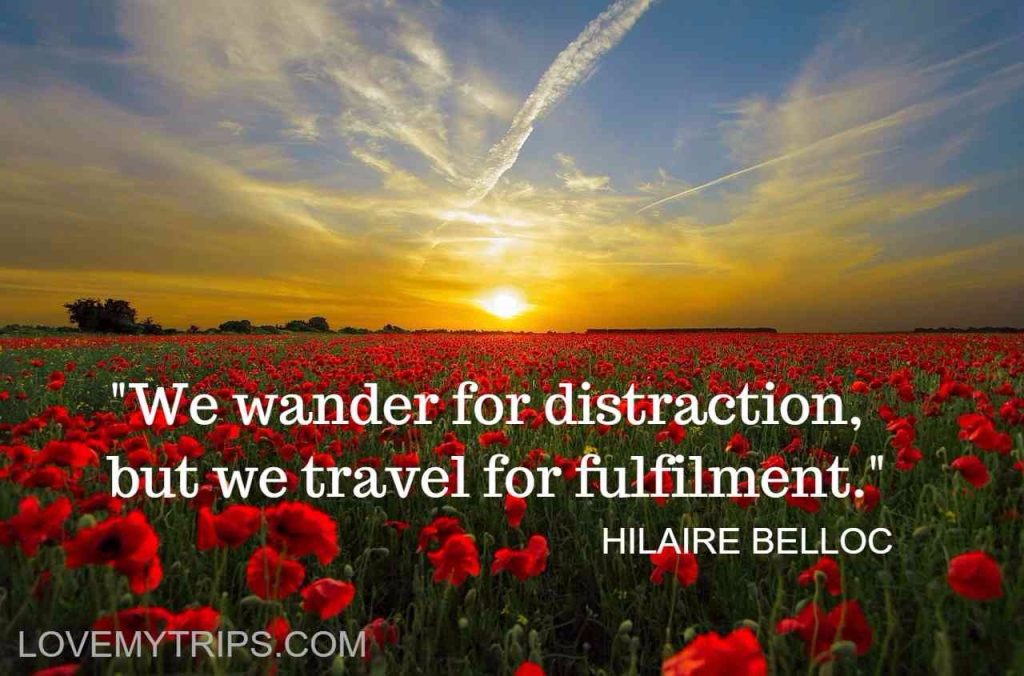 2 'When you travel, remember that a foreign country is not designed to make you comfortable. It is designed to make its own people comfortable.' – Clifton Paul Fadiman
Having spent over 30-years in tour operating and a good number of those years dealing with customer feedback, it was always galling to receive moans and complaints from customers who went on holiday expecting everything to be 'as they like it at home'. Whether this is just a British condition I'm not sure, but how do you respond to someone complaining about the coffee in Italy being 'too strong'? This quote may have been a useful inclusion in my response!
3 'All intellectual improvement arises from leisure.' – Samuel Johnson
I've included this quote because I believe that travel should be a leisure activity although I appreciate that it is often a means to an end in this modern global community in which we all live.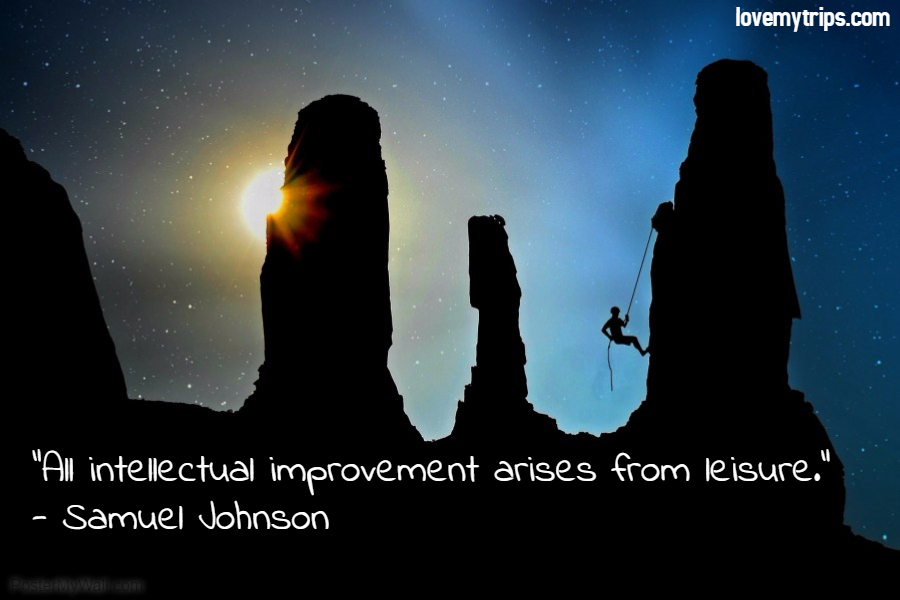 4 'There are no foreign lands. It is the traveller only who is foreign.' – Robert Louis Stevenson
Indeed this egocentric notion that the world revolves purely around our own environment and all else is foreign, is one that still exists today. Living as a foreigner is an enlightening experience.
5 'For once you have tasted flight you will walk the earth with your eyes turned skywards, for there you have been and there you will long to return. ' – Leonardo da Vinci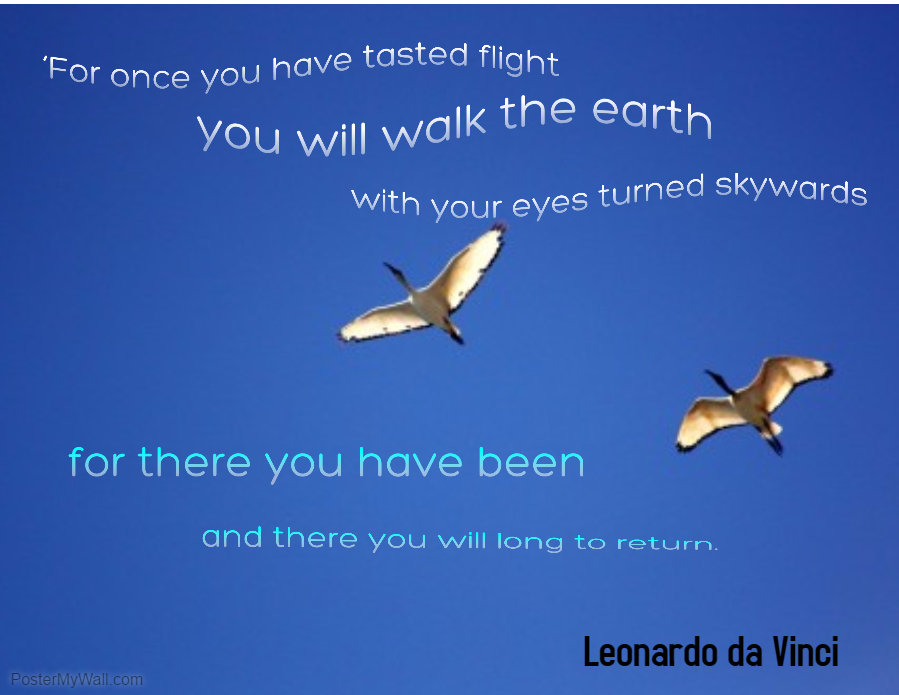 6 'The World is a book and those who do not travel read only a page.' – Saint Augustine
How many pages have you read – maybe you have read a few chapters – but there is still plenty to discover with every new page turned and place discovered.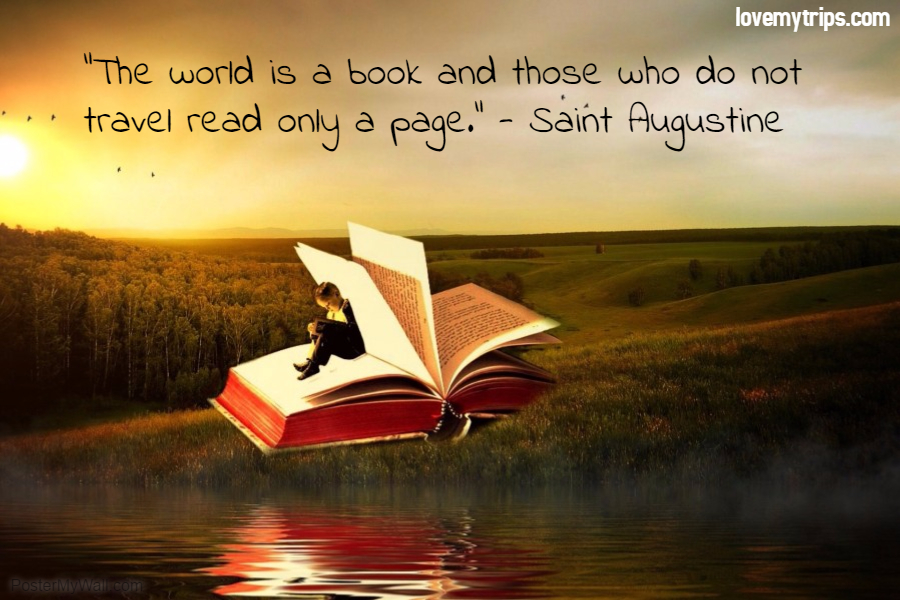 7 'Travel teaches toleration.' – Benjamin Disraeli
If we gain nothing else from out travels then surely a toleration and understanding of other people is as good a lesson as we can hope to learn.
8 'For my part, I travel not to go anywhere, but to go. I travel for travel's sake. The great affair is to move. ' – Robert Louis Stevenson
RLS was a true travel junky in a time when travel was without the comforts we take for granted today. A true pioneer and inspiration to the generations that have followed.
9 'Travel, in the younger sort, is a part of education; in the elder, a part of experience.' – Francis Bacon
10 'Travel makes a wise man better, and a fool worse.' – Thomas Fuller
11 'All travel has its advantages. If the passenger visits better countries, he may learn to improve his own. And if fortune carries him to worse, he may learn to enjoy it.' – Samuel Johnson
12 'I've met the most interesting people while flying or on a boat. These methods of travel seem to attract the kind of people I want to be with.' – Hedy Lamarr
Even film stars can enjoy the expansive qualities of travel!
13 'The person attempting to travel two roads at once will get nowhere.' – Xun Zi
Travel like life needs direction and focus for true achievement.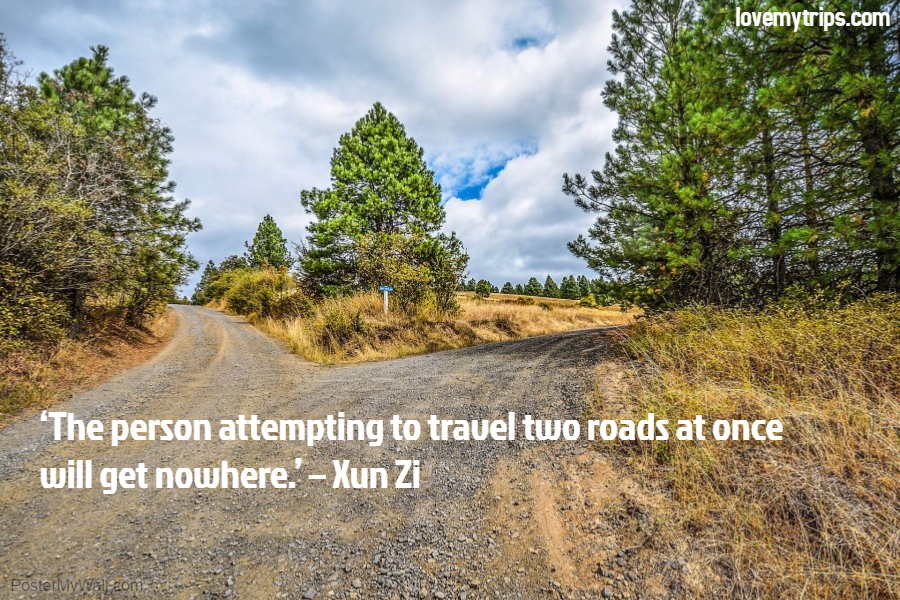 14 'The world is a country which nobody ever yet knew by description; one must travel through it one's self to be acquainted with it.' – Lord Chesterfield
In an age when much of our experience of the world is through the media – it stands true even today that nothing teaches understanding more than personal experience. 
15 'Own only what you can always carry with you: know languages, know countries, know people. Let your memory be your travel bag.' – Aleksandr Solzhenitsyn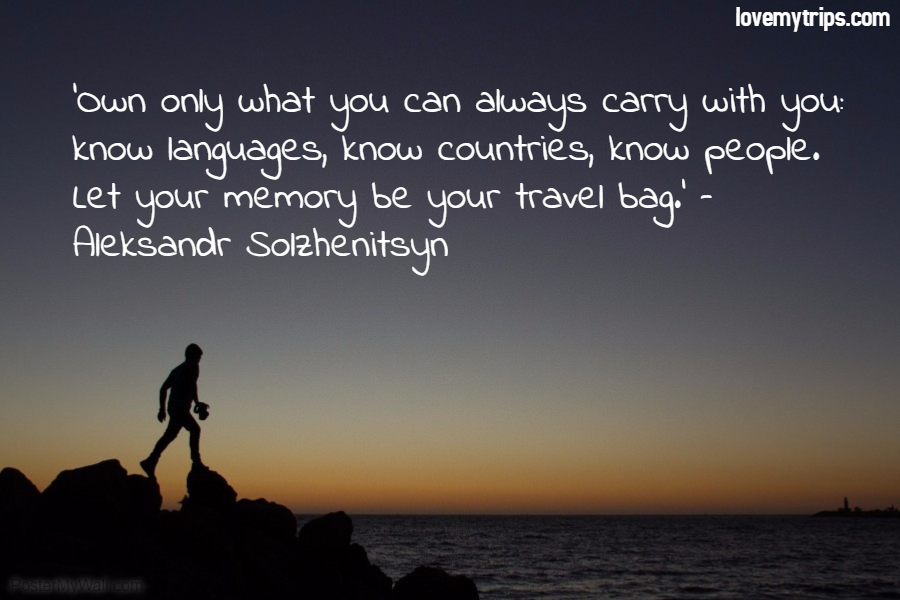 Are you brave enough to let go of your worldly goods and experience the true adventure of travel?
16 'An English man does not travel to see English men.' – Laurence Sterne
Alas if only this was true, as the hoards head off to the Costa's for their summer vacations – how many would be truly satisfied to find not a single 'countryman' amongst their fellow holidaymakers. I for one am happiest when I am away from my fellow countrymen, not because I am not a patriot but because I travel for a change to my everyday environment not to take most of it with me.
17 'To travel is to take a journey into yourself.' – Danny Kaye
Learning about ourselves is as much about the journey as discovering new places and people; how we react and interact with the unfamiliar is a truer reflection of our nature than how we cope with our own environment.
18 'What should I have known or written had I been a quiet, mercantile politician or a lord in waiting? A man must travel, and turmoil, or there is no existence.' – George Byron
Travel, just like life's turmoil, is a vital and creative influence for the artist!
19 'In America there are two classes of travel – first class, and with children.' – Robert Benchley
Travelling with my children is a cornucopia of contradictions; delightful yet angst ridden, loving and spiteful, sweet and bitter, inspiring but disillusioning, but overall an education in parenting.
20 'No one realizes how beautiful it is to travel until he comes home and rests his head on his old, familiar pillow.' – Lin Yutang
Familiarity = comfort = home
21 'We travel to learn; and I have never been in any country where they did not do something better than we do it, think some thoughts better than we think, catch some inspiration from heights above our own.' – Maria Mitchell
22 'A journey is like marriage. The certain way to be wrong is to think you control it.' – John Steinbeck
23 'Focus on the journey, not the destination. Joy is found not in finishing an activity but in doing it.' – Greg Anderson
Whilst this quote is more about personal motivation than travel – it still has a relevance to the old adage that the pleasure is in the journey and not the arriving, but it is the anticipation of the arrival that makes the journey enjoyable and often just bearable.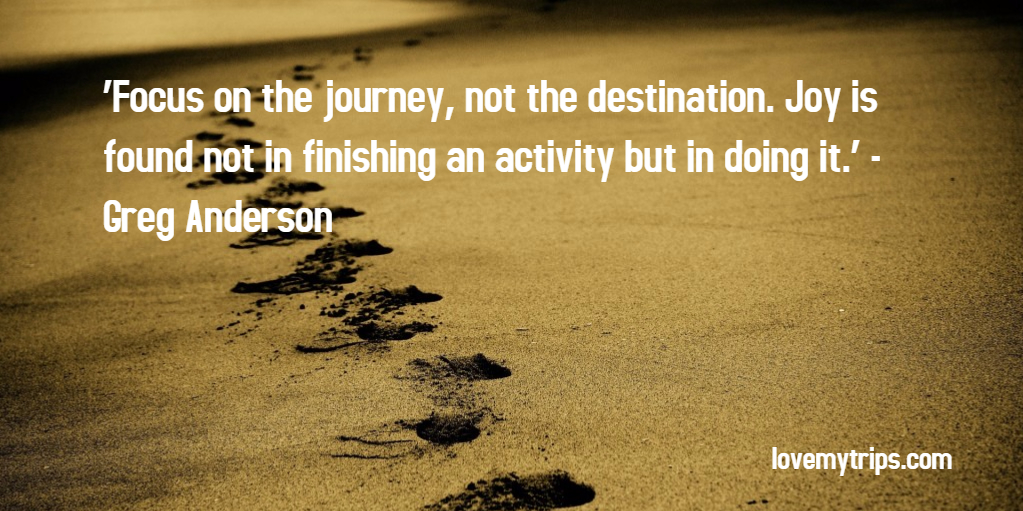 24 'Like all great travelers, I have seen more than I remember, and remember more than I have seen.' – Benjamin Disraeli
Haha – the illusion of travel and the selective capacity of our memory.
25 'Not all those who wander are lost.' – J. R. R. Tolkien
26 'The first condition of understanding a foreign country is to smell it.' – Rudyard Kipling
On first arriving at your destination, close your eyes and inhale deeply, sucking the life of the country into your lungs; recognition and understanding will result!
27 'Travel is glamorous only in retrospect.' – Paul Theroux
Like many of life's adventures which test our patience – retrospect usually wears rose-tinted glasses!
28 'Travel gives me the opportunity to walk through the sectors of cities where one can clearly see the passage of time. ' – Jerzy Kosinski
29 'He travels fastest who travels alone.' H.D. Thoreau
30 'The road of life twists and turns and no two directions are ever the same. Yet our lessons come from the journey, not the destination.' – Don Williams Jr.

31 'Do the difficult things while they are easy and do the great things while they are small. The journey of a thousand miles begins with one step.' – Lao Tzu
32 'A journey is a person in itself; no two are alike. And all plans, safeguards, policing, and coercion are fruitless. We find that after years of struggle that we do not take a trip; a trip takes us.' John Steinbeck
33 'Let me recommend the best medicine in the world: a long journey, at a mild season, through a pleasant country, in easy stages.' – James Madison
34 'I never travel without my diary. One should always have something sensational to read in the train.'- Oscar Wilde
35 'Writing and travel broaden your ass if not your mind and I like to write standing up.' – Ernest Hemingway
36 'The whole object of travel is not to set foot on foreign land; it is at last to set foot on one's own country as a foreign land.' – Gilbert K. Chesterton
37 'Restore human legs as a means of travel. Pedestrians rely on food for fuel and need no special parking facilities.' – Lewis Mumford
Laziness has taken over much of western society and if we all took one less vehicular journey a day then the environment would benefit as well as our bodies.
38 'The photograph reverses the purpose of travel, which until now had been to encounter the strange and unfamiliar.' – Marshall McLuhan
From the man who coined the phrase 'the global village', a world made smaller by media saturation and communication, we get a quote that whilst perhaps an accurate representation of our time, does omit the importance of the physical experience of travel. The internet has brought images, video and the sounds of global destinations to our living room. But we are still a long way from feeling, touching and tasting everything a foreign land has to offer.
39 'You do not travel if you are afraid of the unknown, you travel for the unknown, that reveals you with yourself.' – Ella Maillart
40 'If you reject the food, ignore the customs,
 fear the religion and avoid the people,
 you might better stay at home.' – James Michener
Unfortunately even today many people are still afraid of the unknown when they travel, they eat at global franchises rather than trying the local food, they fear the locals rather than embracing their culture believing that everyone is working a scam and quite often barricade themselves behind the fence of a sanitised resort complex. It is the unknown that makes travel exciting!
best travel quotes

Some words about air travel!
41 'Lovers of air travel find it exhilarating to hang poised between the illusion of immortality and the fact of death.' – Alexander Chase
42 'Airline travel is hours of boredom interrupted by moments of stark terror.' – Al Boliska
Any frequent flyer will have a selection of 'horror flight' stories to share with fellow passengers and the thought of flying for me still generates a mix of emotions including anxiety and excitement.
Travel by car or bus
43 'Thanks to the Interstate Highway System, it is now possible to travel across the country from coast to coast without seeing anything.' – Charles Kuralt
How disappointing it is to take a long road trip and miss so much of the countryside. Luckily the development of SatNav means that it is much easier to take a scenic detour without the fear of getting lost.
Some words on hotel accommodation (sprinkled with humour!)
44 'Room service? Send up a larger room.' – Groucho Marx
45 'There was a girl knocking on my hotel room door all night! Finally, I let her out.' – Henny Youngman
46 'I had moved out of the Edison Hotel because I couldn't pay the bill and was living at the Lincoln Hotel, where I couldn't pay the bill either, but it was cheaper.' – Allan Sherman
47 'I pretend I'm one of the royal family when I'm in a hotel and that the hotel belongs to me – it is a palace.' – Martin Short
This is how hotels should make you feel – in another place away from reality with people at your beck and call.
48 'I stayed in a really old hotel last night. They sent me a wake-up letter.' – Steven Wright
49 'I've always thought a hotel ought to offer optional small animals. I mean a cat to sleep on your bed at night, or a dog of some kind to act pleased when you come in. You ever notice how a hotel room feels so lifeless?' – Anne Tyler
Hotels can be lifeless and cold – but I'm not sure I would want an animal waiting in my room; you never know what surprises you might find in the bed!
50 'Never relinquish clothing to a hotel valet without first specifically telling him that you want it back.' – Fran Lebowitz
…..and a bonus quote from a 21st century icon about travel:
51 The cool thing about being famous is travelling. I have always wanted to travel across seas, like to Canada and stuff. – Britney Spears (Geography lesson for Ms Spears please!)
Extras
52 'A good traveller has no fixed plans, and is not intent on arriving.' – Lao Tzu
53 'All journeys have secret destinations of which the traveler is unaware.' – Martin Buber