A cosy cottage by the sea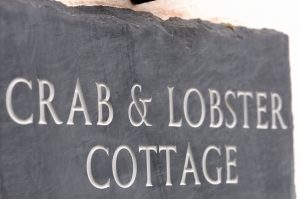 Travel writer Angie Aspinall and husband, Photographer, Richard Aspinall enjoyed a few days away in this cosy cottage cottage at Runswick Bay. Simply charming!
On our visits to the East coast, we've often wondered what is would be like to have the privilege of parking in the 'residents only' car park at Runswick Bay and to actually be staying in such a pretty, picture postcard village and, thanks to the owners of Romantic Cottage Holidays, we've now had the chance to find out.
We followed the owners' directions, making our way between the pretty cottages until we reached a tiny white gate marked 'Private': this was it- our weekend cottage!
The short path led us to the front of Crab and Lobster cottage where there are chairs and a table for those al fresco summer suppers – weather permitting.
The ground floor is home to a smart dining area, with solid wooden table and pew and a cabin-sized kitchen, carefully designed to include all the necessities for a comfortable stay. There were even some Crab and Lobster mugs awaiting our arrival, complete with complimentary cookies.
Onwards and upwards, past the mural of a romantic pastoral scene, dated 1947, the stairs lead to a well proportioned white painted wood panelled bedroom, with solid pine bed, dressing table and a built in wardrobe.
A stylish en suite bathroom is adjacent to the bedroom and a further staircase winds steeply upwards to reveal a charming lounge with a flat screen television but more importantly, a fabulous view of the bay!
Throughout the cottage are lovely homely touches: a throw in the lounge and 'foodie' magazines and a table cloth in the dining room – and tasteful prints and framed pictures relating to the area or to crabs and lobsters. There are also several of the owner's trademark hearts hung around the place, including beautifully framed heart-shaped pebbles collected at the local beach. The cottage is immaculate, cosy and tastefully decorated and the owners should be very proud of it.
To book the cottage, please visit: http://www.romanticcottageholidays.co.uk/
About Angie and Richard Aspinall, Aspinall Ink
Angie is a freelance journalist and photographer, specialising in travel writing. Richard is a professional photographer, journalist and underwater photographer. He is the Editor of Ultramarine Magazine and is also a regular blogger on marine topics. He produces articles and photographs on a range of topics including conservation, travel, wildlife, countryside management and scuba diving.
For more information, please visit: www.aspinallink.co.uk and follow on Twitter