Open-Fire cooking without the burns!
Check out this neat accessory for that authentic outdoor Cowboy dining experience. The RoastingStick-MateTM is a whole new way to enjoy family fun roasting food over the campfire. It is a tool for food placement over an open fire that allows you to find and maintain that perfect spot for a precision cooking experience. It takes the burden out of slow cooking meats and vegetables. It is fun for all ages, keeping kids engaged but at a safe distance from the fire. Relax, you can be hands-on as much as you would like or as little as needed.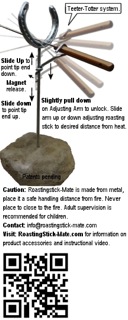 Available in two styles, the one pound Cowboys Cooker or the hiker's eight ounce Camp Cooker, which are built with heavy gauge steel and a wedge-shaped tip for easy placement in the ground outside the campfire.
Via E Corporation is a small innovative company, dedicated to making quality products that will last for years, at an affordable price. Made in the USA and located in Asheville, North Carolina.