Gateway to Yorkshire – Willow Cottage, Yeadon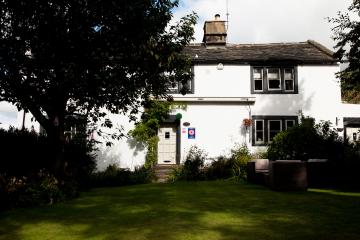 If you're looking for a last minute Christmas present, how about treating your loved one to a night away in a lovingly restored, luxuriously decorated 17th Century cottage? Quick booking at the Willow Cottage B&B is essential; the warm welcome you receive on arrival and the decadent but homely feel of the place means that the rooms are soon snapped up.
Willow Cottage B&B is situated in the heart of Yeadon town centre, an unexpected retreat from the usual pubs, shops and general hubbub of a town on the outskirts of the city of Leeds, but nearest to Leeds Bradford Airport. Yeadon wouldn't usually be my first choice of destination, but actually once the gate was closed on the B&B's well-maintained and established garden, you could be anywhere; the Yorkshire Dales or Moors or even abroad (although the weather doesn't always lend itself to stretching the imagination that far!)
willow cottage lounge
The accommodation comprises of 5 gorgeously decorated bedrooms, some with en-suite bathrooms, and all with cosy beds, large screen TVs and coffee and tea making facilities. We stayed in the Garden room, a private room separate to the rest of house with a king sized bed and large shower with a rain shower head. Why not relax into the sumptuous scatter cushions after a hot shower wearing a plump and fluffy White Company dressing gown, which are available in all rooms.
At breakfast we were greeted like an old friend by Julie who as a host perfectly balances the ability to give you privacy but also to make you feel at home and accommodate your individual needs. Breakfast is taken in the dining room of the main house and can be an intimate affair as all guests are seated at one table. We had breakfast with a German guy who was staying at the B&B on a long term basis whilst doing a job placement. If sharing your breakfast with a stranger is not your cup of tea, then ask for an alternative dining time. The amount of food on offer was impressive; we had a full English breakfast, fresh fruit salad and a round of toast in order to sample the selection of fine jams and spreads available.
There is a cosy guest sitting room with a log burning stove and huge brown leather sofas; a large mirrored trunk filled with books takes centre stage in this room. The bedrooms in the main house are up two flights of stairs and on different levels, which is in line with the building's original structure but means that it is unsuitable for disabled visitors. In respect of guests who may be visiting the cottage for a relaxing time, it is requested that children under 6 stay at home. The quality of the decor and the attention to detail in the choices of furnishings and facilities in each room really show that the B&B's development has been a labour of love and this adds further to the attractiveness of the cottage.
Recently Yorkshire has been voted the top 3rd destination in the world and Yeadon is on the doorstep of most of what Yorkshire has to offer. Leeds City Centre is a bus or train journey away, if you're interested in more of city break. Yeadon is on the way out to the Yorkshire Dales, Skipton, Harrogate and Kirby Lonsdale, to name but a few places, each with their own traditional charm and plenty of interests to keep you amused.
An unexpected treasure giving the country feel in a town centre this B&B certainly is worth a visit on it's own merits to experience a bit of luxury or as a base for visiting Yorkshire. Get booking now for that New Year treat!
For more information visit the Willow Cottage Website.